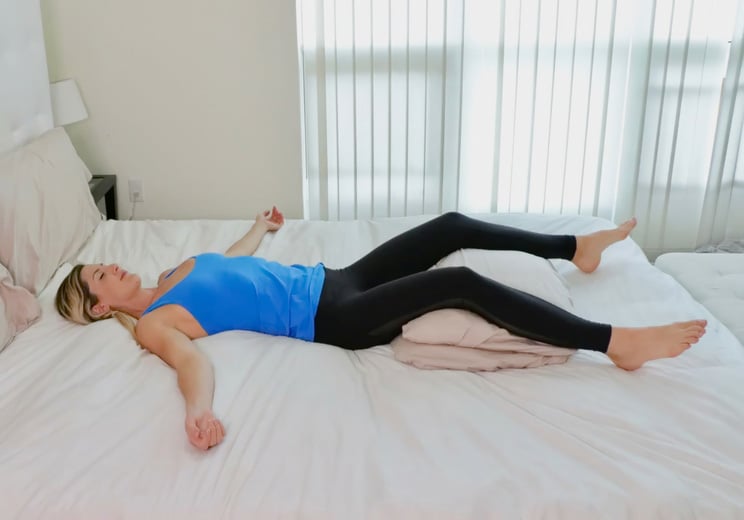 Finish with the king of all relaxation yoga poses, otherwise known as Corpse Pose. Savasana helps put your body in ideal anatomical alignment to promote deep relaxation. If you haven't fallen asleep already, this will surely send you off to dreamland.
Lie flat on your bed and stack two pillows underneath your knees.
Open your knees about shoulder-width apart, or as wide as you can while comfortably keeping them propped on the pillows.
Stretch your arms out to your sides with palms facing up.
Lift your chin slightly up to face the ceiling to allow for smooth breathing.
Begin your deep breaths and don't fight the urge to fall asleep. This is a great pose to spend the entire night in.

About Jessica Gouthro
Jessica is a NASM Certified and Prenatal Certified Personal Trainer, Fitness Nutrition Specialist, and co-host of the popular YouTube show Live Lean TV. She has over 12 years of experience in fitness and nutrition coaching, and she has clients all over the world.
When she's not shooting fitness and nutrition videos, writing workouts, creating recipes, or working with clients, she enjoys long walks on the beach, fun workouts, and spending time with her husband, dog, and baby-on-the-way!