Mediterranean Sheet Pan Chicken/Recipe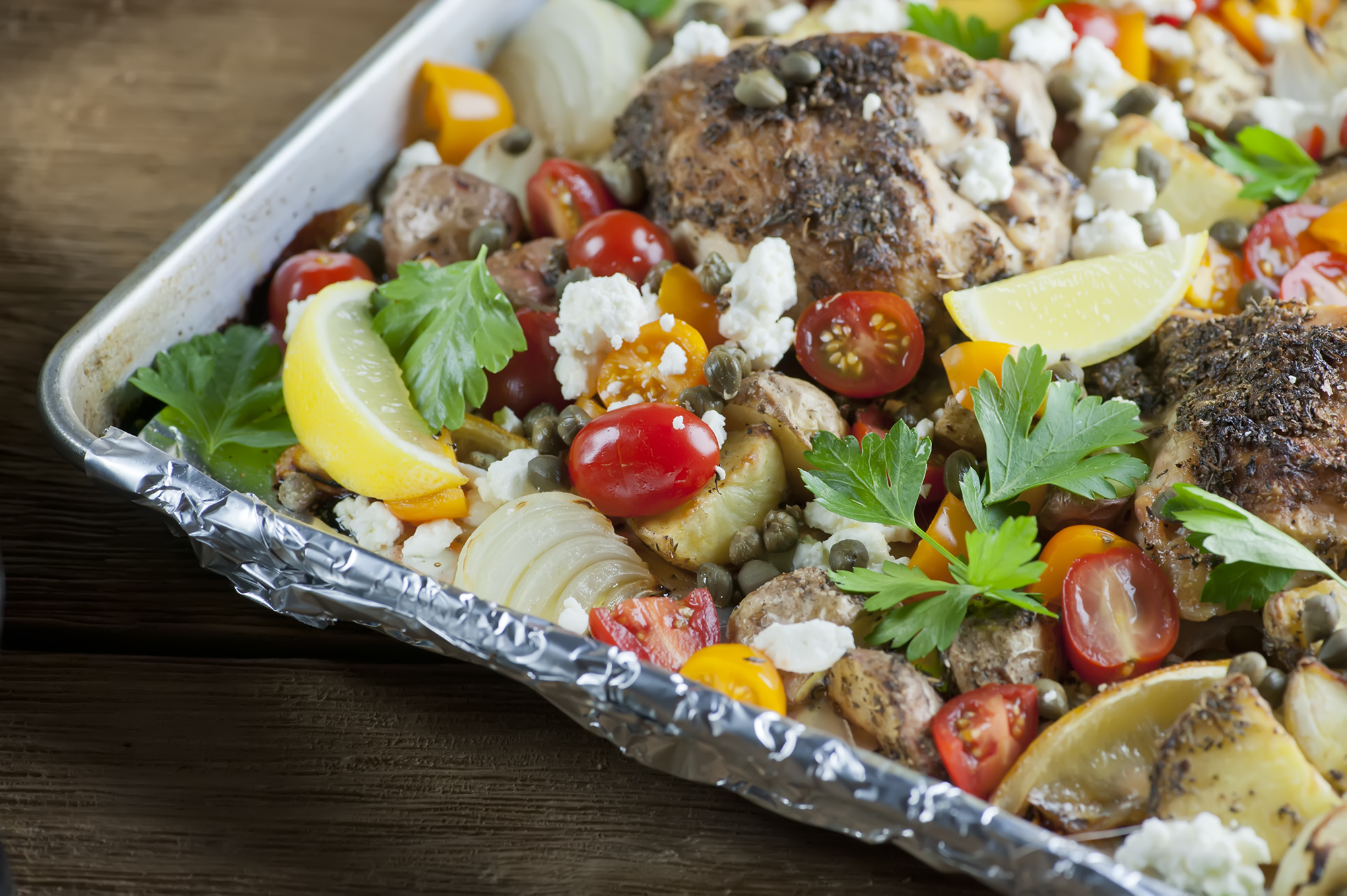 Take your chicken dinner to exotic places with this easy recipe for Mediterranean sheet pan chicken, full of herbs and spices and a little feta cheese!
Ingredients
1 teaspoon cumin
2 teaspoons oregano
2 teaspoons sea salt
2 teaspoons dried thyme
1 teaspoon pepper
1/2 teaspoon cinnamon
1/3 cup olive oil, plus extra for drizzling
4 bone-in chicken breasts
1 lemon, cut in wedges
3 cups baby potatoes, cut in half or quarters depending on size
One sweet onion, sliced
1 pint cherry tomatoes, cut in halves
2 tablespoons capers
1/2 cup crumbled feta cheese
1/4 cup chopped fresh parsley
Instructions
Preheat your oven to 400 and line a rimmed baking sheet with foil (nonstick if you've got it).
Combine cumin, oregano, salt, thyme, pepper and cinnamon in a medium bowl. Add the olive oil and stir until well combined.
Drizzle a little more olive oil on the baking sheet and put the chicken breast on the sheet, spacing them out. Rub them all generously with the spice paste, keeping a couple of spoonfuls of the paste back.
Stir the potatoes with the remaining spice paste and arrange them on the pan around the chicken. Add the sweet onion slices and the lemon wedges.
Roast your sheet pan chicken in the oven for about 30 minutes, until the potatoes are tender and the chicken is cooked through (if you are using an oven thermometer to measure done-ness, which I love to do, the chicken should be 165 degrees)
Sprinkle the tomatoes, capers, feta cheese and parsley over the chicken and veggies, drizzle on a little more olive oil and serve!
Notes
You can serve this one right out of the pan – just put it on a hot mat in the center of the table and let your lucky diners serve themselves!